Moorish College Of The Great Seal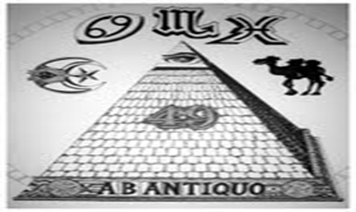 OUR ONLINE LEARNING SYSTEM IS BASED ON A TWO TIER SYSTEM:
Our Tier 1 System is a correspondence course based on self mastery, concentration and the use of the will etc. It is based on Ancient Masonry as far back as Khemet. Modern day Masonry teaches that it makes good men better men. Our degree system assists men and women in unfolding their inner divinity while integrating their outer person with the God/Goddess, namely the God within. Modern masonry teaches that you are in search of light on the outside of self by elevating through a degree system. When you arrive to your 2nd level (there are five levels) you will physically see and feel that light within while you are in your sanctum termed the true middle chamber. As you continue to grow into your studies you will learn to apply that light as you advance in your sacred studies. When you arrive to the 47th lesson thereafter you will actually see the physical light in the darkness based on our instructions. This will not be symbolic, but real.
Many Neophytes never make it to the first level. The reasons vary. One reason is due to inconsistency of spirit and ill intentions. Nonetheless that remains a karma that they must work out in this lifetime.
Membership:
A Neophyte is not officially a member until he/she completes the 13th lesson and submit their assignment. Afterwards if the member would like to obtain their Moorish nationality they must complete the reclamation process that can be found on our website.
Our System consists of 49 lessons for the initiated and uninitiated. These lessons are one of the requirements at some point for the Acolytes and Neophytes in order to best qualify for future initiation in the Moorish International Order of the Great Seal. Initiation can only be obtained during one of our national conferences.  Qualification for this initiation will be based on your interaction on our monthly conference calls, consistent study and report submission. There are exceptions for initiation, whereby you can make arrangements to travel to New York to be initiated in the Clock of Destiny Moorish National Order of the Great Seal. This request must be submitted in writing and only after you complete level 2 unless selected by the chairman of the Clock of Destiny Moorish College of the Great Seal.
Advanced Lessons:
You will receive advance lessons and exercises at no fee that pertain to your studies to increase your ability to create greater results.  Please take note that it is based on the level you are on and the consistency of your studies along with the particular concern in life you may have.
Your Initiation consists of the Alchemy degree that will qualify you to enter lodges and temples overseas. The ceremony is strictly conducted by members with traveling experience. Also, you will be instructed on how to properly meet other members in our temples abroad as Moors, specifically associated within our Supreme Grand Body.  In addition, you will be conducted in one of our Moabite Lodges under the Beth-El Grand Lodge of the Independent United Order of Mechanics, S.H. Friendly Society Act.  This Grand Body was authorized by the Premier that received a warrant from the Supreme Grand Executive Council out of Guyana to set up a Grand Body here in the States. The degrees provided will allow you to travel anywhere in the world and be recognized. Only members that arrive to the 2nd level will be entitled based on their due diligence in their studies. You will receive a letter from the Adept Council of Three, Five, Seven or Nine if you are chosen. Everyone will be considered based on their studies, character and their moral standards. You can apply once you arrive to the 2nd level. Again, you can either travel to New York or be inducted at our annual National Conference.
ADEPTSHIP:
To qualify for the adept chamber one prerequisite is that you arrive to the 34th lesson.  There is a reason.  So please study faithfully.  We are not allowed to mention names, but we must report to all concerned.  Many members that passed the 2nd level and applied our adept lessons have achieved employment, finance and better family relationships.  They are able to deal with life conditions better than before.  They are able to communicate with forces and feel them through their travel. Usually experiences in their lives have developed and we thank all for being faithful to these studies. One's experience is their own. Just as a person's life journey may vary to another. You pass through different schools of sciences as you continue to develop, and you realize that the Clock of Destiny College of the Great Seal has the Keys to pass to you, but you have the answers to your salvation, here and on the soul plane.

Reclamation & Vital Statistics Department:
This 2nd tier is only for those that have a desire to reclaim their Moorish nationality. For more information on this subject please click the link- Reclamation Process.
MEETINGS:
All enrollees and members are especially encouraged to attend our Annual National Conference (you are always notified three months in advance via email and which state where the conference is being held). In the future we will set up College Temples or lodges in other jurisdictions; therefore we encourage all sincere Moors to attend so that we all may get to know one another while working in unity.
The Council of Three has met and they have decided to provide certificates after you complete lesson 13. All certificates and I.D/ Cards regardless of the level completed are given out at the National Conference.  After a member completes lesson 13 they are entitled to purchase and were the Clock of Destiny College label pin. The lapel pin contribution is $15. Every member will receive additional lessons once they complete lesson 13 pertaining to the five symbols (if you have not received such material please notify the Clock of Destiny and we will verify your information and follow up with you). The sir name Bey or El is not required but good character is.
You will also be able to wear the Great headdress known among Masons and the world, namely the Red Fez that was worn by our ancient forefathers-Moors.  All members that enroll into this program will be given homework assignments and field experiments in order to show proficiency in their studies.  Some lessons do not require homework, but all will require mental reflection.
OUR CONDITIONS FOR ENROLLMENT:
The requirements are not unreasonable. The Moorish College is composed of practical men and women of all shades, black, brown, yellow, red and white. Truth, spirituality, soul development or being god-like do not discriminate.  You can be a Japanese, Scottish, German, Irish, African American, Latino etc; the spirit does not have a nationality. You must be possessed of sane business reason, spiritual attainment and for the upliftment of fallen humanity from a social, economic and political prospective. It presupposes that all seekers are just and fair and that they recognize the two great Laws: The Law of Compensation and The God within. Understanding that if we change how we think we improve in our life conditions, while affecting our community in a positive way. The monetary requirements connected with the work are such only as experience has shown to be essential to cover legitimate expenses. There are neither monthly nor yearly dues to meet these expenses during the process of achievement at this time.  After arriving at the 2nd level and based on your ability to give, a minimum donation will be asked to keep the college perpetual.  At times your financial contribution may be necessary as it takes finance to uplift the nation.
PRE-ENROLLMENT CONDITIONS:
The initial enrollment in the college requires that an application covenant be signed and a donation of $38.00 is made out for one individual. If Husband (spouse) or Wife enrolls, the donation will be $48.00.  Each donation includes the $13 for the first lesson.  Actually, we will include lessons 2 and 3 as well.  These are complimentary.  So once you enroll, you will be getting a total of 3 lessons.  All answers to your lessons must be submitted to an email address we will provide. The chairperson or his assistants will ensure that your answers are on track with lesson goals.  Once you submit your answers you can request your next lesson (starting with #4) from this page.  No more than two lessons a month are allowed.  Please note if you do not receive a response regarding certain lessons it's because it was approved. Also take due notice, all lesson requests will take around three (3) days to be sent to you via PDF.

Application Enrollment – Individual:
$38.00 Add to cart
Application Enrollment (Individual and Spouse):
$48.00 Add to cart
All lessons can be requested via Paypal (from #4 to #49):
$13.00 Select options
So that all errors may be avoided and excuses rendered void, it is necessary that all applicants possess a thorough knowledge of the philosophy taught by the Clock of Destiny. This necessitates that the aspirant procure and study the following:
Clock of Destiny Book 1:
$13.00 Add to cart
Clock of Destiny Book 2:
$13.00 Add to cart
Your Master Key to Civilization Book 3:
$20.00 Add to cart
Sayings of the Prophet Noble Drew Ali:
$7.00 Add to cart
Depending on your location, shipping fees will vary. For example, there are members in Europe.
No sincere Aspirant can afford to be without these books. The above books are the foundation in which the Clock of Destiny College and Clock of Destiny Moorish International Order Temples are founded on. We feel that the value of these books is far greater than their cost and that a study of their contents will amply repay the out lay, whether or not the reader enters the college.
Book Orders:
Also please note that all book orders take place within three days of the request. There will be times your order will go out the same day, other times the 2nd Day. But always keep in mind it is always within three days. If you have not received it within seven (7) days please email Clockofdestiny12@gmail.com. Please be patient as we have a very short staff however; 2015 will be a great achievement for all.
LESSONS:
Each lesson (starting with #4) requires $13 (U.S) donation. After a certain lesson you will be required to send in the results of your demonstration. We also provide other lessons for your advancement in the Great Work. All members of the college must know that the Clock of Destiny is an applied science via demonstration, right thinking, and application. We MUST show and prove and not show and tell. If you cannot use what you learn then how can you benefit from it? C.M. Bey, the founder of the Moorish National Order of the Great seal in 1947 focused on solving of your economic, social and political problem in North America and abroad. The College of the Great Seal has been designed by the Clock of Destiny Moorish National Order of the Great Seal Supreme Grand Council to continue its mission.